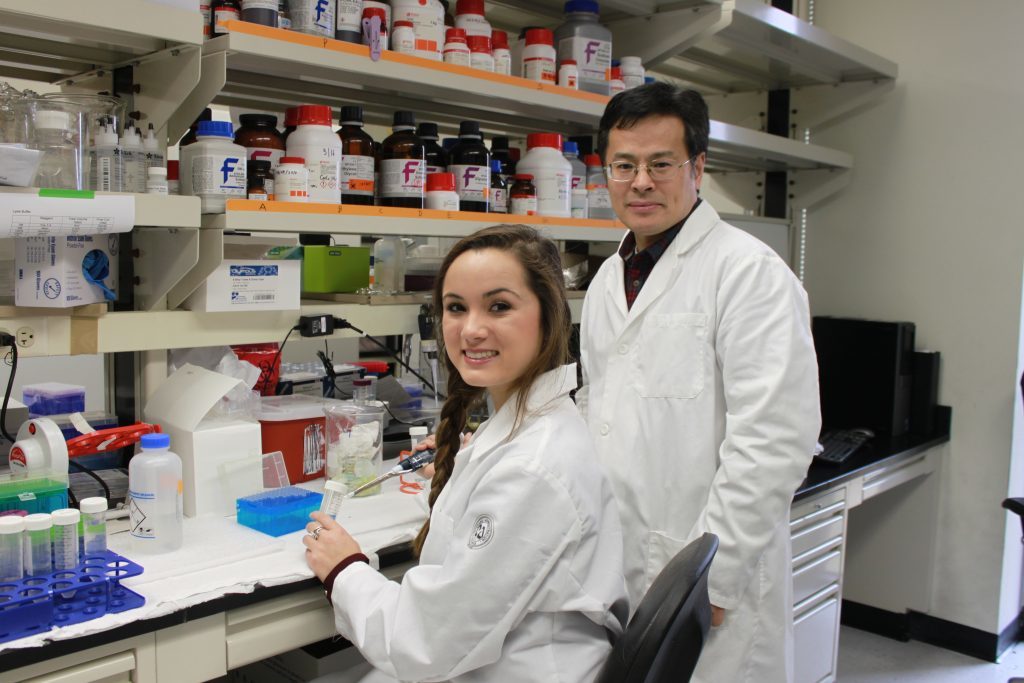 Doctor of Philosophy in Nutrition
The doctoral program in nutrition allows emphasis in the broad fields of basic, molecular nutrition or applied human nutrition. For instance, Ph.D. candidates in basic nutrition may perform research in the areas of nutritional biochemistry, physiology, immunology, and/or molecular biology, while applied nutrition candidates may be interested in clinical, community or international nutrition research. Students are required to complete the core curriculum in nutrition which includes courses in nutrition, biochemistry, physiology, and/or epidemiology and biostatistics.
Program Details
Texas A&M University offers two routes to the Ph.D. The traditional route is for those who have obtained a master's degree and requires 64 credit hours. A 96-credit hour option is available for those who have obtained a bachelor's degree but have not completed a master's degree.
Near or at the end of the didactic portion of the program, students take a preliminary exam intended to assess knowledge and competence in nutrition and related fields. Students passing the preliminary exam are admitted to candidacy for a Ph.D. degree. All students are expected to be active participants in the Intercollegiate Faculty of Nutrition seminar series each semester they are enrolled as well as be involved in the Nutritional Science Graduate Association and department events.
Application Deadlines
Fall: December 1 Priority Deadline; February 1 Final Deadline
Spring: September 1
Applications are accepted on a rolling basis, however students interested in funding opportunities must apply by the priority deadline. Applicants interested in the doctoral program are highly encouraged to apply for fall semester admittance.
Subject Requirements for Ph.D. in Basic Molecular Nutrition
Subject Requirements with B.S.
Nutrition – 12 Credits
600 level Biochemistry – 6 Credits
600 level Physiology – 6 Credits
600 level Statistics – 6 Credits
600 level Seminar* – 3 Credits
*Seminar is required every regular semester. Register for 0 or 1 credit.
Subject Requirements with M.S.
Nutrition – 6 Credits
600 level Biochemistry – 3 Credits
600 level Physiology – 3 Credits
600 level Statistics – 3 Credits
600 level Seminar** – 2 Credits
**Seminar is required every regular semester. Register for 0 or 1 credit.
Notes:
Core requirements may not be met by 691 (research) or 685 (special problems) credits.
A single course may not be used to meet more than one core subject requirement. For example, NFSC 642 (Nutritional Biochemistry) may not be used for both Biochemistry and Nutrition requirements on the same degree plan.
The degree plan of the Ph.D. student is the responsibility of the student and the student's graduate committee. The purpose of the core is only to provide a minimum number of courses in various disciplines to ensure that students receive a foundational education in Nutrition.
What Do I Need to Apply?
Apply through the Texas A&M University GraduateCAS system
Upload unofficial transcript with application
Resume or Curriculum Vitae
Statement of Purpose
Three letters of recommendation, submitted online with your application

Official transcripts and records

, sent to the Office of Admissions
International Students
Official TOEFL scores are required for international applicants. Official scores must be sent by ETS directly to Texas A&M University using the school code: 6003. Visit the Graduate & Professional School website for a list of requirements, exemptions and other useful information regarding the TOEFL/IELTS Exams.
Contact Us
Graduate Programs Coordinator, Program Coordinator II